At examguide.com, in line with our goal of making students LEARN DIFFERENTLY, we intelligently designed the software to be not just a bank of past questions but a complete tool that if armed with will guarantee good performance.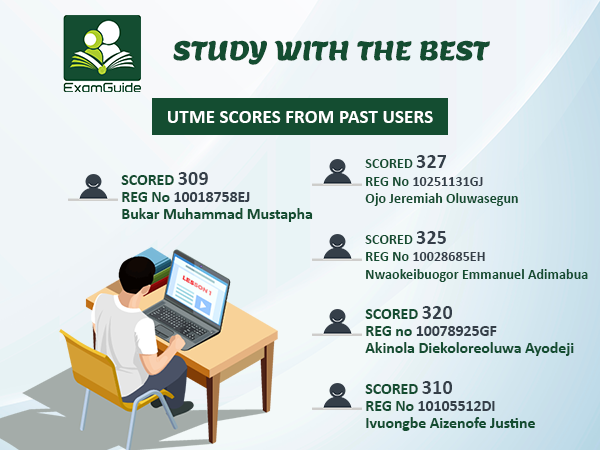 ExamGuide UTME a compilation of JAMB past questions and answers to prepare for the UTME EXAM. We have over 25,000 questions you can practice and study with right away. ExamGuide "JAMB CBT APP" is a necessity for candidates that want to scale through the UTME in a sitting. The Computer-based testing (CBT) software we created to be just like that of JAMB Software with an easy-to-use user interface. Loaded with up to 25 SUBJECTS you can practice offline without the internet. You are guaranteed of Getting Higher
Score with this package.
DOWNLOAD 2022/2023 JAMB CBT SOFTWARE (examguide.com) now
WINDOWS APPLICATION
https://examguide.com/offline
ANDROID APPLICATION
https://play.google.com/store/apps/developer?id=Zigmatech+Consult+limited
TO BUY EXAMGUIDE ACTIVATION KEY
https://examguide.com/offline/buy
ExamGuide is a weapon to PASS JAMB UTME with a high score; it is advisable that any student preparing for JAMB should download the CBT PRACTICE SOFTWARE AMAZING FEATURES OF EXAMGUIDE OFFLINE JAMB PRACTICE SOFTWARE
ROBUST AND COMPREHENSIVE
Users can practice multiple subjects simultaneously in three modes (practice, study, and mock). You can filter questions by topic, set the number of questions to practice, and specify the exam duration. The question option boxes display images, tables, and special symbols.
EVERYTHING YOU NEED TO PASS THE EXAM IN ONE SITTING
ExamGuide is a bank of past questions with detailed and simple explanations. Each question is matched to a topic, and the results displayed by the subject topic are accompanied by suggested areas that need improvement.
RICH RESULT ANALYSIS
ExamGuide provides in-depth analysis and trends in performance. At the end of an exam, students can see their exam scores, the number of attempted questions, the speed and time spent answering questions, and the graphical analysis of their overall performance.
ADDITIONAL LEARNING TOOLS
ExamGuide includes additional learning tools as a game, which makes studying more enjoyable. Users have unlimited access to Map, Math Rush, and Millionaire games, so there are no dull moments.
AN EXPANSIVE LIBRARY OF VARIOUS EXAMS
Currently, our series covers UTME by JAMB, SSCE and GCE by WAEC and NECO, BECE/JSCE by NECO, NCEE by NECO, POST-UTME, COWBELLPEDIA, IJMB, LBAR EXAMS, and the ICAN EXAMS AND MANY MORE ADDITIONS TO FOLLOW SOON.
ONE-OFF PAYMENT THAT LASTS FOR A DEVICE LIFETIME
You only need to activate the Application one time on a device and gain access to it for as long as you have that device. There are no hidden fees.
Ready to start your success journey now then click the links below to
DOWNLOAD 2022/2023 JAMB CBT SOFTWARE (examguide.com) now
WINDOWS APPLICATION
https://examguide.com/offline
ANDROID APPLICATION
https://play.google.com/store/apps/developer?id=Zigmatech+Consult+limited
TO BUY EXAMGUIDE ACTIVATION KEY
https://examguide.com/offline/buy